Happy Hatchday in Rochester!
After a very turbulent early season, there is some wonderful news out of the Rochester Falconcam today. The star Peregrine Falcon pair Beauty and Dot.ca became proud parents with the hatching of their first chick early this morning. Here is a screen shot of Beauty, the fluffy chick, and the two remaining eggs.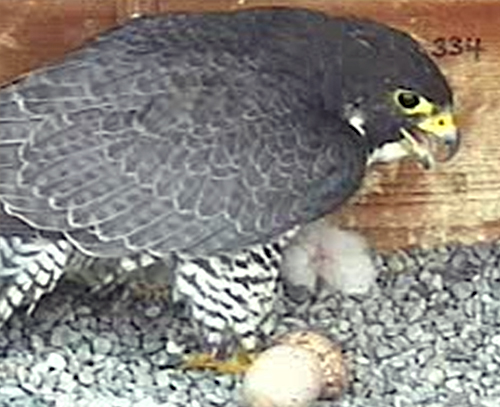 Screen shot from earlier today (June 20, 2012) from the Rochester Falconcam
The season began with Beauty in rehab and different female Peregrine Falcon at the nest site. In fact, one of those remaining eggs wasn't even laid by Beauty! Follow the link to the Imprints blog at the beginning of this post for a quick catch-up on this dramatic breeding season. We continue to support the Genesse Valley Audubon Society in bringing the Rochester Falconcam to the world. New designs featuring our updated Birdorable Peregrine Falcon reflect this year's changes to the players in this year's drama. As always, 30% of the retail price for all Birdorable Rochester Falconcam product sales will be donated GVAS.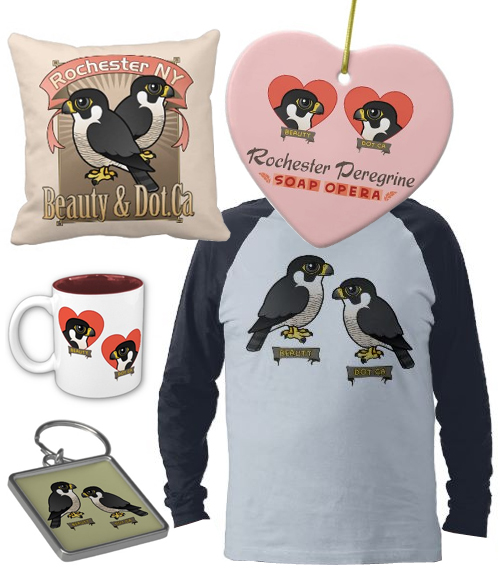 You can also donate directly to the Rfalconcam via this link: Individual Donors. Follow Rfalconcam on Facebook to stay updated!