Testimonial from Michigan: Birdorable Sun Conure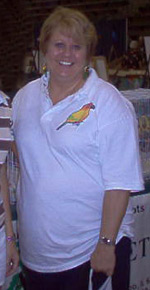 "I LOVE IT! It's Birdorable!! I wore it to a bird show and everyone asked where I got it. It is very easy to care for: wash, dry and wear. I have the other set of nine birds printed on the back and everyone keeps asking me if I own all nine of them!"
Cindy, Michigan Cindy is wearing a customized Golf Shirt with Nine Birdorable Parrots on the back and the Birdorable Sun Conure on the front.