Keep Calm and Carrion
It's not propaganda if it's true, right? When you're a vulture, you might not know where your next meal is coming from, but you can be pretty sure it's going to be carrion. So why not just keep calm? This adorable British spoof poster design features a monotone Birdorable Turkey Vulture outline along with text KEEP CALM AND CARRION. Great for anyone that loves vultures and/or good British humor!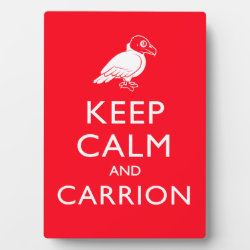 Keep Calm and Carrion Photo Plaque 5" x 7" with Easel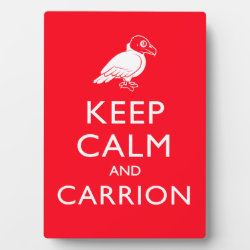 The Turkey Vulture is the most common vulture in the Americas. Despite the similarity in name and appearance, this species is unrelated to the Old World vultures of the family Accipitridae, which also includes eagles, ...
More
Shopping at Birdorable
All of our Birdorable apparel and gifts are made-to-order by our fulfillment partner Zazzle. All our products are customizable and many are available on different styles. Click through to Zazzle to view all options and prices.

100% Satisfaction Guaranteed
Zazzle offers 100% money back guarantee on our high quality Birdorable products. In case you are not happy with your purchase, you can always return your Birdorable product for an exchange or refund within 30 days of receipt. See customer service for more information.