About the Blue-naped Parrot
Also known as: Blue-crowned Green Parrot, Luzon Parrot, Philippine Green Parrot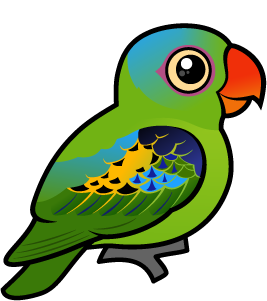 The Blue-naped Parrot can be found throughout the Philippines including on islands off Borneo and the Talaud Islands. It can be found in forests to scattered trees up to 3,280 feet (1,000 meters). They flock in groups of usually less than a dozen and feed on berries, seeds, nuts and grain. Habitat loss and trapping have made them scarce on most islands except Mindoro and Palawan.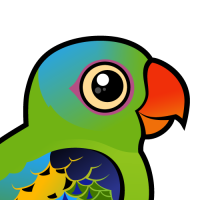 Find cute products & gifts with our Birdorable Blue-naped Parrot
Details & Statistics
Added to Birdorable
Hatched 7 November 2007
Conservation Status
Near Threatened
(as of 6 April 2020)
NT
Least Concern (LC)
Near Threatened (NT)
Vulnerable (VU)
Endangered (EN)
Critically Endangered (CR)
Extinct in the Wild (EW)
Extinct (EX)
Conservation
The Blue-naped Parrot is listed as Near Threatened on the IUCN Red List and was last assessed in 2012 by BirdLife International. This species is listed as Near Threatened because there are some indications that it has a moderately small, fragmented population, and it may be undergoing a continuing decline owing to trapping and forest loss. However, little is currently known about the population size and structure, and threats to this species. Further information is needed to improve the accuracy of this assessment.
International Names
Papoušek Modrošíjný
Blånakket Grovnæbspapegøje
Blauwnekpapegaai
Filippiiniennokkakaija
Perruche de Luçon
Blaunackenpapagei
Pappagallo Nuca Azzurra
コオオハナインコモドキ (Kooohanainkomodoki)
Blånakkepapegøye
Papuga Modroczapkowa
Loro Nuquiazul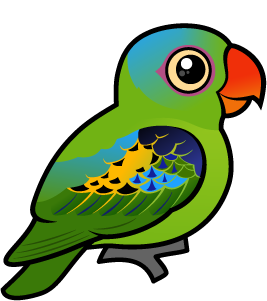 Cute gifts with this bird
Designs with this bird
Other Parrots & Parakeets