About the Spix's Macaw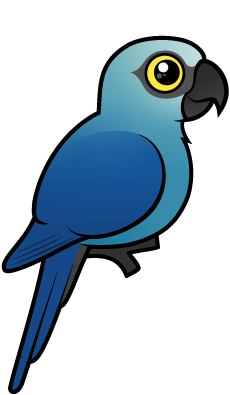 The Spix's Macaw is one of the rarest birds in the world and is believed to be extinct in the wild. The species was feared to be extinct in the early 1980's, until it was rediscovered in 1985 when just 5 birds were located in the north of Bahia, Brazil. Sadly, by 1988 it appeared the last 5 birds had been removed by trappers. In 1990 an exhaustive survey in the area resulted in the discovered of a single wild survivor! The Brazilian Authorities located a wild caught female Spix's Macaw at a private breeding facility. In 1995 the female was released in the wild to join the last remaining one, but unfortunately shortly after she was found dead. The one remaining bird was last seen on October 5th, 2000 and is thought to have died of natural causes as he was in excess of 20 years old.
Currently there are approximately 120 individual Spix's Macaws in captivity around the world. 78 of these are participating in an international breeding program managed by the Institute Chico Mendes of Biodiversity Conservation, the Natural Heritage Branch of the Brazilian Government. 50 of these are managed at Al Wabra Wildlife Preservation in the State of Qatar.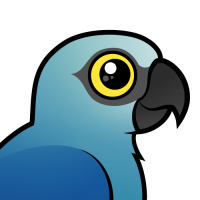 Find cute products & gifts with our Birdorable Spix's Macaw
Details & Statistics
Added to Birdorable
Hatched 26 June 2008
Conservation Status
Critically Endangered
(as of 6 April 2020)
CR
Least Concern (LC)
Near Threatened (NT)
Vulnerable (VU)
Endangered (EN)
Critically Endangered (CR)
Extinct in the Wild (EW)
Extinct (EX)
Measurements
Length:
21 to 22 inches
(53.3 to 55.9 cm)
Conservation
The Spix's Macaw is listed as Critically Endangered on the IUCN Red List and was last assessed in 2015 by BirdLife International. Although this species exists in several captive populations, the last known individual in the wild disappeared at the end of 2000, and no others may remain, primarily as a result of trapping for trade plus habitat loss. However, it cannot yet be presumed to be Extinct in the Wild until all areas of potential habitat have been thoroughly surveyed. Any remaining population is likely to be tiny, and for these reasons it is treated as Critically Endangered (Possibly Extinct in the Wild).
International Names
Ararinha-azul
Ara škraboškový
Spixara
Spix' Ara
Siniara
Ara de Spix
Spix-Ara
Ara di Spix
アオコンゴウインコ (Aokongouinko)
Brilleara
Ara Modra
Guacamayo de Spix
Spixara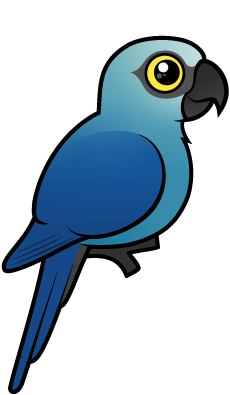 Cute gifts with this bird
Designs with this bird
Other Parrots & Parakeets