About the Brant Goose
Also known as: Brant, Brent, Brent Goose, American Brant, Atlantic Brent, Black Brant, Black Brent, Dark-bellied Brent, Dark-bellied Brant, Pale-bellied Brant Goose, Light-bellied Brent, Pacific Brent, Russian Brent, White-bellied Brant, White-bellied Brent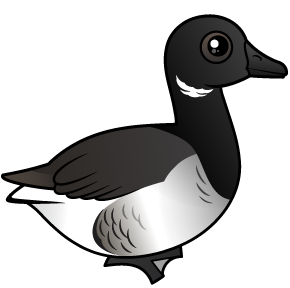 The Brant Goose is a species of goose that has three distinct subspecies. They are fairly widespread across the northern hemisphere.
American birds are known as "Brant Goose" or simply "Brant" and are of the "Black Brant" subspecies. The other two subspecies are generally known as "Brent" or "Brent Goose" in their range over parts of Europe and Asia. The subspecies are Dark-bellied and Pale-bellied and are occasionally sighted in North America.
The Brant Goose is traditionally a coastal species outside of breeding season, but in recent years has taken to feeding on agricultural lands with other species of goose. The global population of this species has risen dramatically during the mid-to-late twentieth century.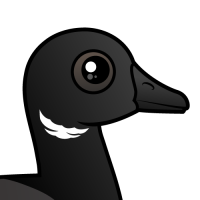 Find cute products & gifts with our Birdorable Brant Goose
Details & Statistics
Added to Birdorable
Hatched 19 December 2011
Conservation Status
Least Concern
(as of 6 April 2020)
LC
Least Concern (LC)
Near Threatened (NT)
Vulnerable (VU)
Endangered (EN)
Critically Endangered (CR)
Extinct in the Wild (EW)
Extinct (EX)
Measurements
Length:
1.8 to 2.2 feet
(55.9 to 66 cm)
Wingspan:
3.5 to 4 feet
(1.1 to 1.2 meters)
Weight:
1.9 to 4.9 pounds
(0.9 to 2.2 kilos)
Conservation
The Brant Goose is listed as Least Concern on the IUCN Red List and was last assessed in 2015 by BirdLife International. This species has an extremely large range, and hence does not approach the thresholds for Vulnerable under the range size criterion (Extent of Occurrence <20,000 km2 combined with a declining or fluctuating range size, habitat extent/quality, or population size and a small number of locations or severe fragmentation). The population trend is not known, but the population is not believed to be decreasing sufficiently rapidly to approach the thresholds under the population trend criterion (>30% decline over ten years or three generations). The population size is very large, and hence does not approach the thresholds for Vulnerable under the population size criterion (<10,000 mature individuals with a continuing decline estimated to be >10% in ten years or three generations, or with a specified population structure). For these reasons the species is evaluated as Least Concern.
International Names
berneška tmavá
Knortegås
Rotgans
sepelhanhi
Bernache cravant
Ringelgans
Oca colombaccio
コクガン (kokugan)
흑기러기
Ringgås
bernikla obrożna
Чёрная казарка
Barnacla Carinegra
Prutgås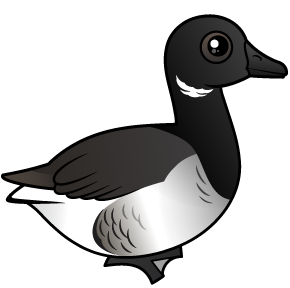 Cute gifts with this bird
Designs with this bird