About the Hooded Crane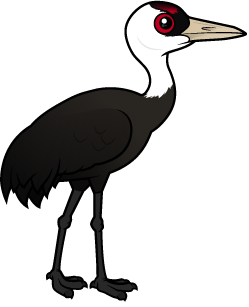 The Hooded Crane is a small species of crane found across parts of Asia. They breed in parts of Mongolia and Siberia and spend the winters in Japan, South Korea, and China.

Hooded Cranes eat a varied diet that includes plants and their berries, insects, salamanders, and frogs. They consume a higher percentage of plant materials in the winter, including waste grains and rice, as well as seeds.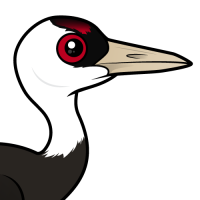 Find cute products & gifts with our Birdorable Hooded Crane
Details & Statistics
Added to Birdorable
Hatched 16 March 2015
Conservation Status
Vulnerable
(as of 4 May 2020)
VU
Least Concern (LC)
Near Threatened (NT)
Vulnerable (VU)
Endangered (EN)
Critically Endangered (CR)
Extinct in the Wild (EW)
Extinct (EX)
Measurements
Wingspan:
5.2 to 5.9 feet
(1.6 to 1.8 meters)
Weight:
7.2 to 10.8 pounds
(3.3 to 4.9 kilos)
Range
Conservation
The Hooded Crane is listed as Vulnerable on the IUCN Red List and was last assessed in 2012 by BirdLife International. This crane has a small population, restricted to fewer than ten wintering sites whose combined area is small. It has declined at the majority of these wintering sites. Given the substantial threats to its habitat, it is likely to continue declining in the near future. Owing to these factors it is listed as Vulnerable.
International Names
白头鹤
jeřáb kápový
Hættetrane
Monnikskraanvogel
munkkikurki
Grue moine
Mönchskranich
Gru monaca
ナベヅル [nabeduru]
흑두루미
Hvithodetrane
zuraw bialoglowy
Grou-de-capuz
Чёрный журавль
Grulla Monje
Munktrana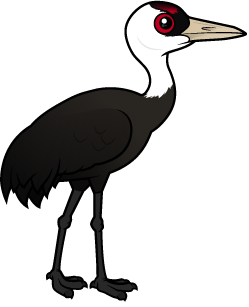 Cute gifts with this bird
Designs with this bird
Downloads
More Information
Other Rails, Cranes & Friends