About the Yellow-billed Magpie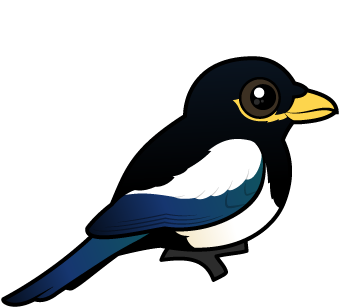 The Yellow-billed Magpie, a large bird in the crow family, is only found in California. It inhabits the Central Valley and the adjacent chaparral foothills and mountains. Apart from its having a yellow bill and a yellow streak around the eye, it is virtually identical to the Black-billed Magpie (Pica hudsonia) found in much of the rest of North America.
The Yellow-billed Magpie prefers groves of tall trees along rivers and near open areas, though in some cities they have begun to nest in vacant lots and other weedy places.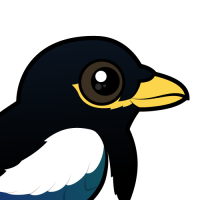 Find cute products & gifts with our Birdorable Yellow-billed Magpie
Details & Statistics
Added to Birdorable
Hatched 1 June 2007
Conservation Status
Near Threatened
(as of 7 April 2020)
NT
Least Concern (LC)
Near Threatened (NT)
Vulnerable (VU)
Endangered (EN)
Critically Endangered (CR)
Extinct in the Wild (EW)
Extinct (EX)
Conservation
The Yellow-billed Magpie is listed as Near Threatened on the IUCN Red List and was last assessed in 2014 by BirdLife International. This species has been uplisted to Near Threatened on the basis that it has undergone a moderately rapid population reduction owing to mortality caused by West Nile Virus, which caused a crash in its population from which it now appears to be recovering.
International Names
黄嘴喜鹊
Straka žlutozobá
Californisk Husskade
Geelbekekster
Kalifornianharakka
Pie à Bec Jaune
Gelbschnabelelster
Gazza Beccogiallo
キバシカササギ (Kibashikasasagi)
노랑부리까치 (Norangburikkachi)
Gulnebbskjære
Sroka Zóltodzioba
Желтоклювая сорока
Urraca de Pico Amarillo
Gulnäbbad Skata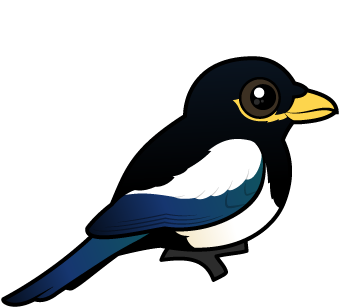 Cute gifts with this bird
Other Corvids, Shrikes & Friends