The Miracle of the California Gulls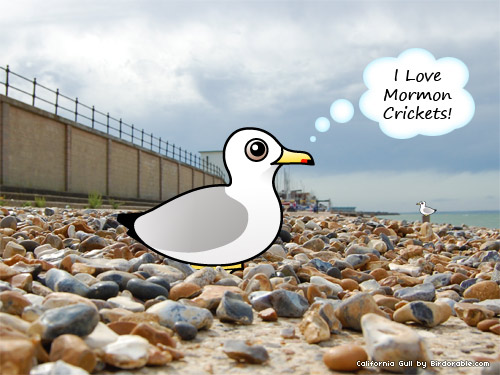 The California Gull is found in the western half of North America. This medium-sized gull is the state bird of Utah. The California Gull has an interesting history in the state, and is memorialized with a Seagull Monument in Salt Lake City. The monument recognizes the Mormons' "miracle of the gulls."
[California Gulls are] often credited by Latter-day Saints ("Mormons") for saving the Mormon pioneers' first harvest in Utah. According to Mormon folklore, seagulls miraculously saved the 1848 crops by eating thousands of insects that were devouring their fields. The traditional story is that the seagulls annihilated the insects, ensuring the survival of some 4,000 Mormons who had traveled to Utah. For this reason, Seagull Monument was erected and the California gull is the state bird of Utah.