Do you know what all of the birds in this picture have in common?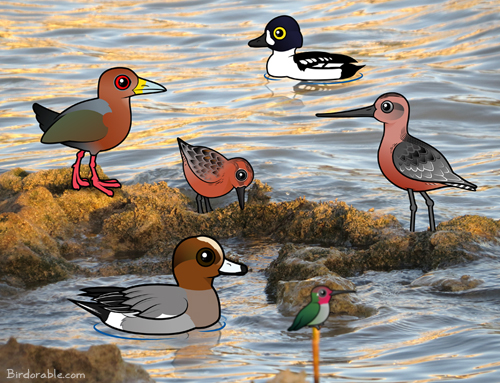 Left to right: Rufous-necked Wood-Rail; Eurasian Wigeon; Red Knot; Barrow's Goldeneye; Anna's Hummingbird; and Bar-tailed Godwit.
You're not likely to find them all in the same spot, that's for sure! But these species were all seen in North America this year by Neil Hayward, a birder doing a North American Big Year. As of this afternoon, Hayward has seen a total 744 species in 2013, with 3 additional "provisional" species. That puts him in a very good position to break the record set by Sandy Komito, who saw 745 (+3 "provisional") species in 1998.
Komito had serious competition from two other birders during that big year. The adventures of all three became the basis for a popular book and the big screen film "The Big Year" starring Steve Martin, Owen Wilson, and Jack Black. Hayward is maintaining a very entertaining blog of his year at Accidental Big Year 2013.
Have a look -- the next two weeks will probably see him zipping from state to state and he could very well blow the record out of the water!