Get ready to dress up your pumpkins this Halloween with some cute Birdorable birds! Below you can download four different cute bird pumpkin carving patterns of varying skill levels as free downloads. Two of our patterns are simple bird cut-outs, and two are inverted designs where the area around the bird must be carved away. Just click on a pattern thumbnail to download the PDF and get carving!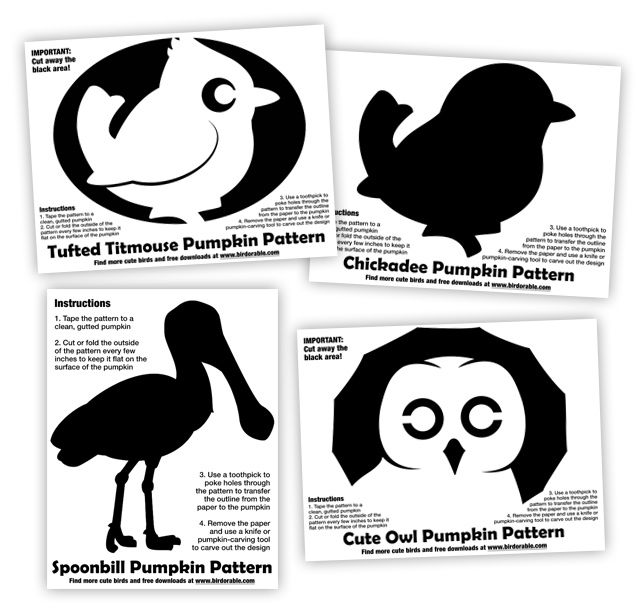 Our first free pumpkin carving pattern is a cut-out Birdorable chickadee. Chickadees love Halloween, you know! After all, they are always singing, "Trick or treat-treat-treat-treat," aren't they?!
Next, our free spoonbill pumpkin pattern is another cut-out, though a bit more involved. You know, I bet that spoon-shaped bill would be very handy at cleaning out pumpkin guts this time of year!
Our cute owl pumpkin cut-away pattern has the owl looking out from inside the pumpkin, how adorable! Owls own the night - even on Halloween - and this little cutie is no exception.
Finally, we have our cute Birdorable Tufted Titmouse pumpkin pattern. This is another cute-away job, and requires a steady hand to leave enough pumpkin to keep the bird afloat. Be careful carving that wing, too!
Have you used any of our free printable downloads at home, in your classroom, or at an event? We'd love to hear about it! Send us photos of the pages in action, or the final result – we may showcase them on our blog!