The Zimbabwe Street Performer
The Bateleur is a beautiful and rather colorful species of eagle found in parts of Sub-Saharan Africa and Arabia.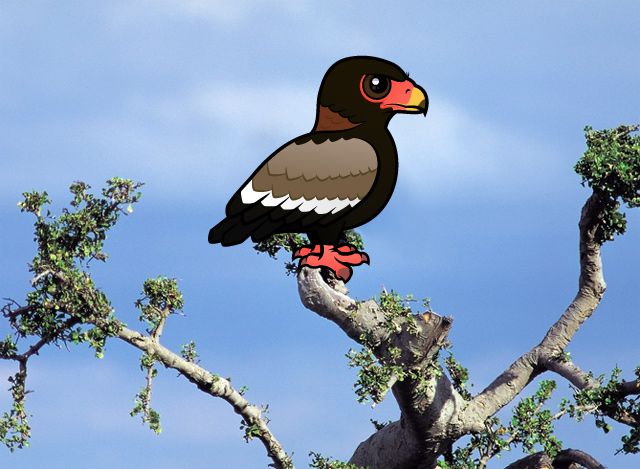 The name Bateleur means "Street Performer" in French. The bird is so named particularly after tight-rope walkers, because of its habit of rocking while soaring or gliding, as if keeping its balance. Adult Bateleurs are notable for their extremely short tails, especially when compared to other birds of prey.
It takes seven or more years for a Bateleur to reach full adult maturity; before that time their tails are actually longer than those of full-grown adults! Juvenile wing feathers are longer as well; as young birds learn to fly, they use the longer feathers to keep stable in the air. During each molt from hatching to adulthood, the wing and tail feathers grow in shorter and shorter.
The Bateleur is thought to be the species represented by stone-carved Zimbabwe Bird sculptures. The carvings, found in the ruined city of Great Zimbabwe, were created in the 11th century and later. The country is named for the ancient city and the Zimbabwe Bird is the national emblem of modern Zimbabwe.
We recently added the Bateleur to Birdorable. If you can't get enough of this very interesting and colorful bird of prey, be sure to check out our collection of cute cartoon Bateleur gifts!