12 Days of Birdorable: Two Turtle Doves
On the second day of Birdorable, my true love gave to me ... 2 Turtle Doves and a Partridge in a Pear Tree. Our 12 Days of Birdorable continues today with Two Turtle Doves. The European Turtle Dove is a small species of dove, recognized by the black-and-white cheek patch and red skin around the eyes.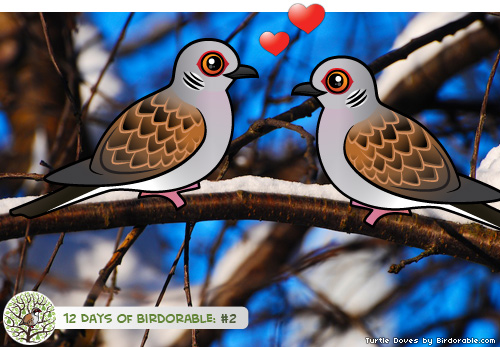 Turtle Doves are featured in "The Twelve Days of Christmas" song as the gift of the second day of Christmas. Turtle Doves appear elsewhere in popular culture, often as a symbol of devoted love.
| | |
| --- | --- |
| | |
| iPhone 3 Case | Basic American Apparel T-Shirt |
This is the second day of our 12 Days of Birdorable holiday event. Our first day featured A Partridge in a Pear Tree. Over the next 10 days we will feature another Birdorable bird for our 12 Days of Birdorable. Be sure to check back each day for this fun event!