Ho, Ho, Ho ... 6 New Birdorable Christmas Coloring Pages!
The holiday season is upon us, and what better way to spend a cold December day than to cuddle up with your crayons and color in one of our Christmas-themed Birdorable coloring pages! Check out these six new downloads featuring our cute Birdorable birds wearing santa hats. Go to Coloring Pages to download these new PDFs. You can check our Meet the Birds page to get some color guidance. Do you like our Birdorable Christmas birds? Check out our many Christmas-themed t-shirts and gifts and Christmas cards! The first coloring page has three American backyard birds perched on a candy cane. They are: Black-capped Chickadee, American Goldfinch and Dark-eyed Junco.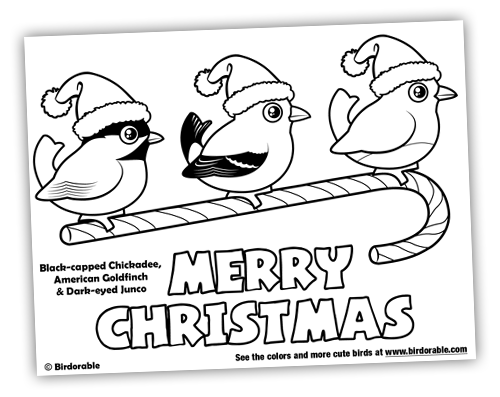 We have a similar one for our friends across the pond, with a European Goldfinch, Chaffinch and Great Tit. The other four coloring pages have a Barred Owl, Bar-tailed Godwit, Laughing Kookaburra and Atlantic Puffin ... all dressed up and ready for the holidays.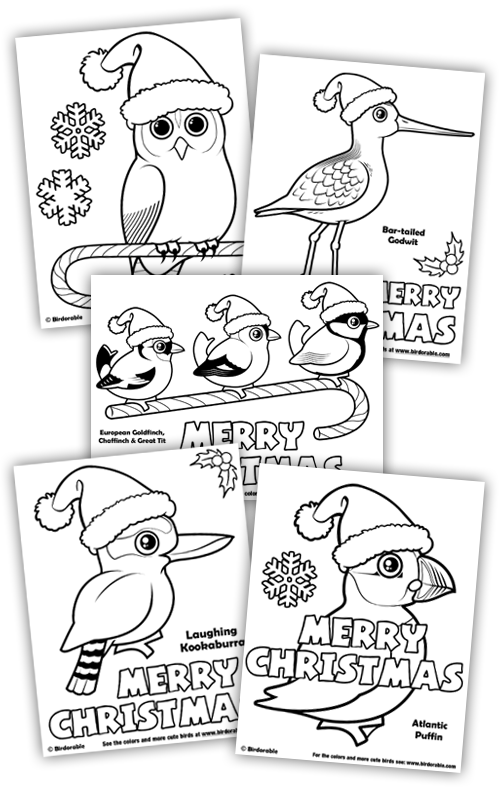 These downloads will be available until 31 December 2010. Check here for more coloring pages. Subscribe to the Birdorable Blog by RSS feed or by email to get notified when new downloads like this are added. Have you used our coloring pages at home, in your classroom, or at an event? We'd love to hear about it! Send us photos of the pages in action, or the final result – we may showcase them on our blog!