Bonanza Bird #2: The Green Woodpecker, The Green Anteater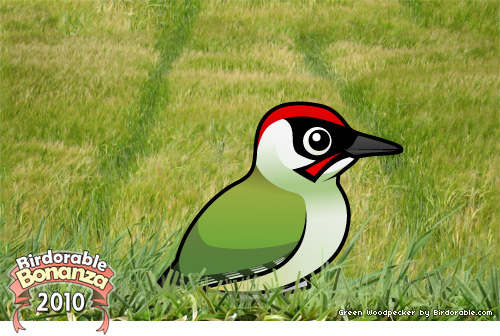 For 18 days we'll be introducing a new Birdorable bird every day as part of our Birdorable Bonanza 2010. Our second bird is this green anteater, the Green Woodpecker. Green Woodpeckers are a species of woodpecker that lives throughout Europe and parts of western Asia. They are widespread in many European countries, with over half of the global population believed to live in France, Spain and Germany. Unlike other species of woodpecker, Green Woodpeckers feed by foraging for bugs -especially ants - on the ground. They forgo pecking on wood (trees) for ant-hunting, feeding on several different species of ant. They're avian anteaters!
Green Woodpecker by Shelley & Dave
Tomorrow's bird is a beautiful little yellow bird that breeds in cavities in North America. Can you guess what it will be?