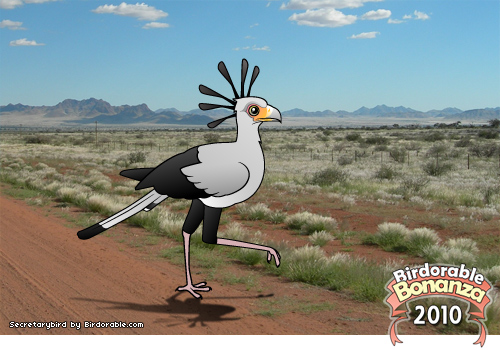 For 18 days we've been adding a new Birdorable bird every day as part of our Birdorable Bonanza 2010. We saved a very special bird for the final bird of our bonanza. Today's bird is the Birdorable Secretary Bird! Secretary Birds are large birds of prey native to sub-Saharan Africa. They have atypically long legs for a bird of prey, standing a whopping four feet high. Their distinctive look also includes their long scraggly head crest, featherless red faces and extremely long tails. They are like big crested eagles standing on towering crane legs! Wow!

Secretary Birds by vanbikkel
Three boys in South Africa made the news last week in a wildlife rescue story involving a Secretary Bird. The boys were alerted that another group of youths was stoning a Secretary Bird on their block. The hero boys grabbed the bird by the feet (good idea - those talons are dangerous!) and body and brought it back home. Wildlife experts were called in to care for the rescued bird, which is expected to be released back into the wild after rehabilitation.
Birdorable Secretary Bird
Kids Sweatshirt
Birdorable Secretary Bird
Travel Mug