What kind of bird is that? Barn Swallow!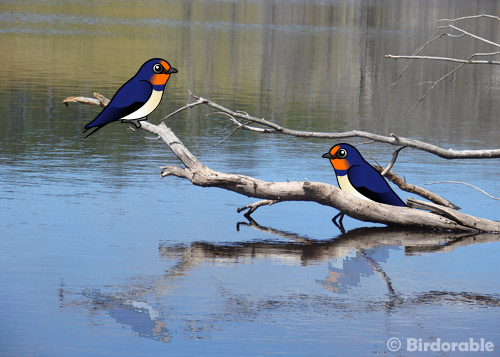 This new Birdorable spends much of its time in the air catching flying insects. It even gets its water while flying by skimming over the surface and scooping up water with its bill. The Barn Swallow can be found almost all over the world, from Europe to Asia and Africa to the Americas. The title of this article is actually a quote from a movie in which James Stewart goes out birdwatching and every time he asks his companion "What kind of bird is that?", the answer is always "Barn Swallow!". Do you know what movie I'm talking about? Barn Swallows build cup-shaped nests in accessible buildings such as barns, stables and under bridges. Look at these cute babies in their nest waiting for mom or dad to come back with a snack:
Barn Swallow is the answer to yesterday's Spot the Birdorable.