12 Days of Birdorable: Three French Hens
On the third day of Birdorable, my true love gave to me ... 3 French Hens! Our 12 Days of Birdorable continues today with Three French Hens. The Faverolles is a French breed of chicken (and our very first Birdorable chicken!). Cock Faverolles are black and white, while hen Faverolles, featured here, are more salmon colored to creamy white.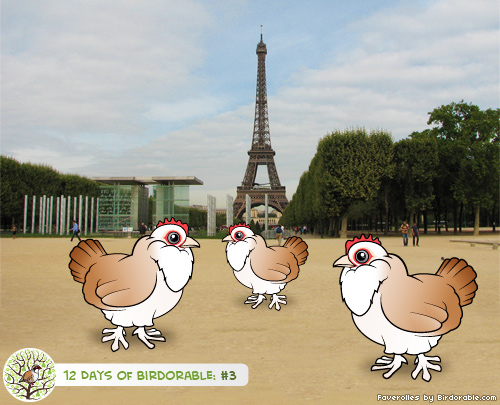 Three French Hens, presumably Faverolles, are featured in "The Twelve Days of Christmas" as the gift of the third day of Christmas.
| | |
| --- | --- |
| | |
| Ladies Fitted T-Shirt | Budget Tote |
This is the third day of our 12 Days of Birdorable holiday event. Previously featured were:
Over the next 9 days we will post another Birdorable bird for our 12 Days of Birdorable. Be sure to check back each day for this fun event!