2015 Bonanza Bird #8: Bee Hummingbird
Today our Birdorable Bonanza: 2015 Advent Edition continues with the smallest species of bird in the world: the Bee Hummingbird!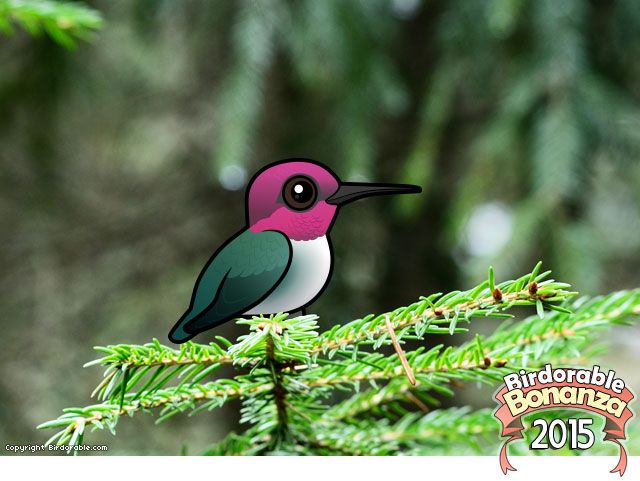 An adult Bee Hummingbird weighs in at 2 grams or less, which is lighter than an American penny coin. In fact, a nickname for this tiny 2-inch long bird is the "Penny Hummingbird". It is both the smallest and the lightest species of bird in the world. The second-smallest living species of bird in the world is the Bumblebee Hummingbird.
The tiny size of the Bee Hummingbird may be attributed to competition with other hummingbirds in its habitat. Over time the species evolved to feed on smaller flowers than other hummingbird species that shared its habitat.
Bee Hummingbirds are endemic to Cuba, meaning they are found only on the islands of that country and no where else on earth. They are non-migratory but may disperse during the year depending on availability of nectar-producing flowers.

Mellisuga helenae by Ekaterina Chernetsova (CC BY 2.0)

Mellisuga helenae by Ekaterina Chernetsova (CC BY 2.0)
The Bee Hummingbird is our 624th Birdorable bird and our 7th species of hummingbird. Be sure to check out our collection of apparel and gifts featuring the Birdorable Bee Hummingbird! Our Bonanza continues tomorrow with a common North American flycatcher that sings its name. Can you guess tomorrow's species?