2015 Bonanza Bird #7: Fire-tufted Barbet
Today our Birdorable Bonanza: 2015 Advent Edition continues with an Asian species of barbet: the Fire-tufted Barbet!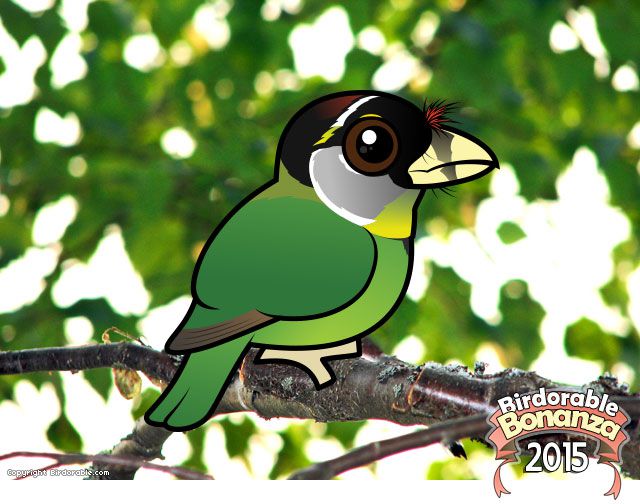 The Fire-tufted Barbet is one of 26 species of Asian barbets, which are found from Tibet to Indonesia. Birds in this family, Megalaimidae, are generally plump in appearance and large-headed. Fire-tufted Barbets are found in Indonesia and Malaysia.
Fire-tufted Barbets have a mostly green plumage, with deep green back feathers and a lime green breast. Males have a reddish or "fire" colored tuft of feathers at the top of the beak.
The Fire-tufted Barbet feeds on fruit, especially figs, as well as insects. These birds do well in captivity and are found in zoos around the world, where their diet may include other types of fruit and even small rodents.

Fire-tufted Barbet byJason Thompson (CC BY 2.0)

Fire-tufted Barbet by Francesco Veronesi (CC BY-SA 2.0)
The Fire-tufted Barbet is our 623rd Birdorable bird. Be sure to check out our collection of apparel and gifts featuring the Birdorable Fire-tufted Barbet!
Tomorrow's new Birdorable is the smallest living bird in the world! Can you guess what it will be?