Back in March the American Birding Association (ABA) announced that their bird of the year for 2012 would be the Evening Grosbeak. We are supporting the ABA with sales of Birdorable Evening Grosbeak merchandise. Birdorable is proud to support the ABA by offering Evening Grosbeak apparel and merchandise with 25% of sales going directly to the organization. All Birdorable Evening Grosbeak designs are participating in this promotion throughout 2012! All Birdorable Evening Grosbeak products, including shirts, stickers, mugs, and mousepads, are completely customizable via our production partner Zazzle. One great thing about offering our products via Zazzle is that customers can add elements like text or photos to products to personalize them. We are offering some "pre-personalized" ABA-branded merchandise in our Birdorable shop. You can find them here: ABA Bird of the Year 2012.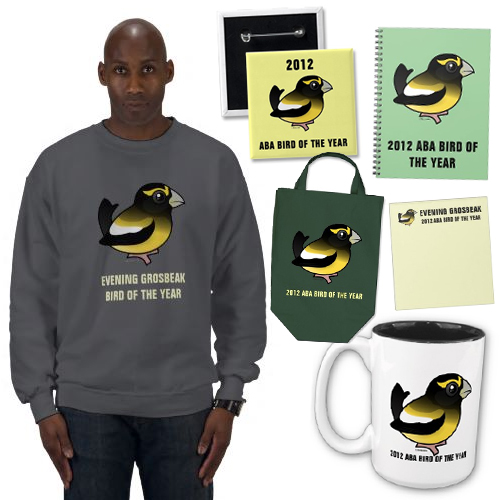 Here is a very short tutorial showing how you can customize Birdorable products, using an ABA Evening Grosbeak shirt as an example. From the shop page linked above, click on the Value Shirt thumbnail. This brings you directly to the product page on Zazzle.com. Click on the orange Customize It button.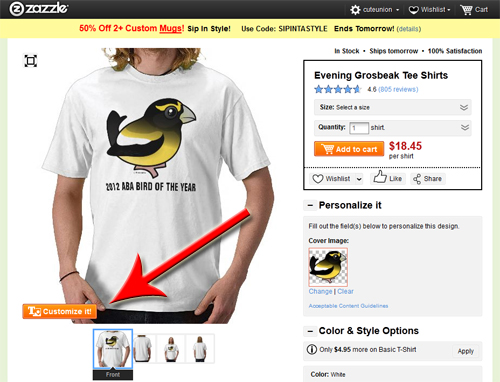 The page refreshes with a new customization menu available on the right side of the screen, shown below. Notice that there are two design elements - one text and one image. Click on Change text to customize the t-shirt text.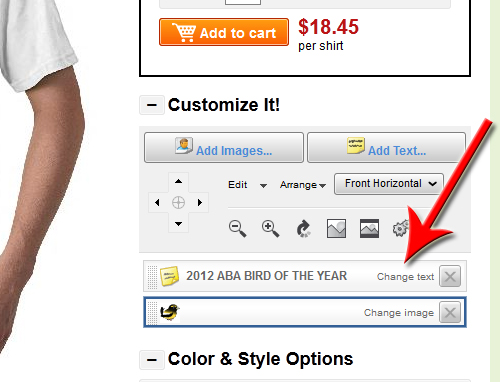 A small text box pops up on the screen. In this example I have changed the text to read I LOVE THE ABA. I used the text size tool to increase the font size on the caption. Here is what my new shirt looks like.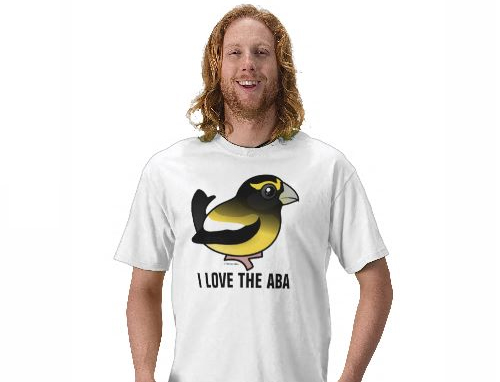 There are other customization options - you can change the font style or color, change the placement of both the bird and your caption, or even add your own images. You can add your name or anything else to the back of shirts, too! Customization tools like these are available on all Zazzle-provided products, and there is no obligation to buy - so feel free to play with the tools and let your creativity shine! We've had fun with this before on our blog, adding funny text to our Kakapo shirts when a particularly funny video clip was making the social media rounds. Check it out, and be sure to look at the shirts at the bottom of the post: Shagadelic Birdorable Kakapo. If you play around with the customization tools, feel free to show off your creations, either by commenting here on the blog or by posting on our Facebook page.