Kea, the Sheep-eating Parrot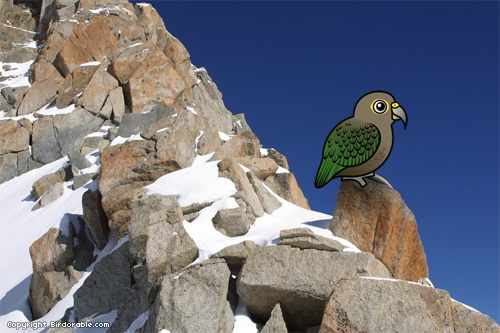 Do you think this parrot looks cute? Don't let the cute big eyes fool you. This parrot is a killer! The Kea is native to the South Island of New Zealand and is one of only a few parrots in the world that lives in alpine regions. They to used to be killed by farmers for they preyed on livestock, especially sheep. Can you believe this cute parrot would attack a sheep?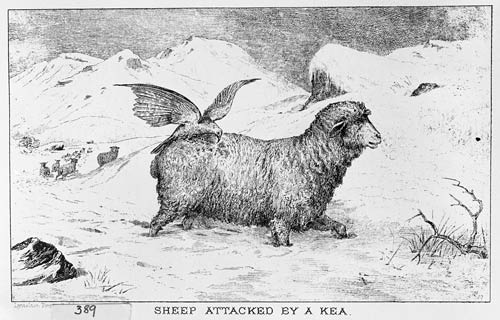 The above drawing from 1882 shows a Kea on the back of a sheep. The birds have the reputation for pecking through the skin of a sheep to take fat from around the kidneys. This usually does not immediately kill the animal, but often a fatal blood infection follows. A bounty was placed on the birds that caused a heavy reduction in their numbers, but now they are a protected species. Here is a shocking clip from Animal Planet narrated by David Attenborough. Warning: this video is not for the faint of heart
The kea is the 213th bird species we've cutified as a Birdorable. It's available on customizable t-shirts and gifts. For more cute parrots and parakeets see Meet the Birds.