2014 Bonanza Bird #2: Song Sparrow
The second bird in our 2014 Bonanza is a North American sparrow: the Song Sparrow!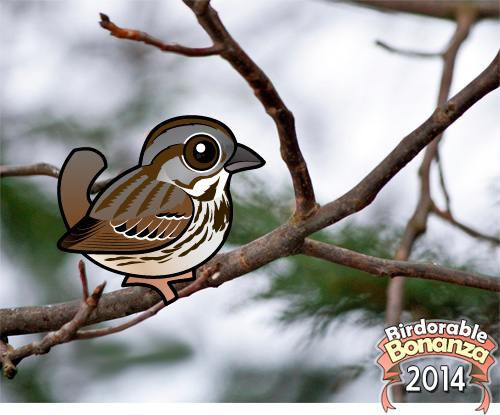 In our clue yesterday, we indicated that the Song Sparrow is an LBJ with a lot of range. What did we mean? "LBJ" stands for "Little Brown Job", a phrase sometimes used to describe dull-colored small songbirds that may be difficult to identify. Song Sparrows are brown and streaky. They may be identified by the dark spot in the center of the breast, among other traits. When talking about range, we were referring to a few different things. Song Sparrows are found all over North America, so they have a large natural regional range. Song Sparrows are named for their song repertoire. In their voice they have a lot of range. Song Sparrows have over 20 recognized subspecies; up to 50 subspecies may exist. These differ in physical characteristics; the appearance of Song Sparrows has a lot of range.
Song Sparrow by Amy Evenstad
Song Sparrow joins Birdorable today as our 559th species, and our 10th species of sparrow. If you like Song Sparrows as much as we do, be sure to check out our selection of cute Birdorable Song Sparrow t-shirts and gifts. Our Bonanza continues tomorrow with a species that comes with its own opposite! Can you guess tomorrow's species?