Kingfisher Week Fun: Coloring Pages
This week, we're celebrating the world's kingfishers! There are about 90 species of kingfisher in the world. These darling birds are often colorful, and they can be found all around the world. Join us as we highlight kingfishers on the Birdorable blog this week! Today we're sharing some fun kingfisher coloring pages!
Here is some hump-day fun for this mid-Kingfisher-week. Kingfishers are among the most colorful birds in the world. The Common Kingfisher, found across parts of Europe, Asia, and Africa, is one of the most widespread kingfisher species. With its beautiful blue body plumage highlighted by rufous and white, it is known as the most colorful bird of Great Britain. The Belted Kingfisher is common across much of North America. Females of the species are more colorful; they sport a rufous breast band in addition to a mostly slate-blue body plumage. The Stork-billed Kingfisher, found in parts of Asia, has a lovely muted color palette that includes blue, brown, buff, and red.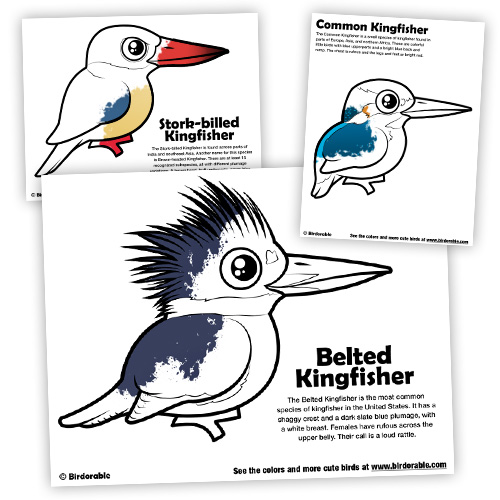 Direct links to the coloring pages:
Find more coloring pages for other species on our free coloring page downloads. And be sure to check out the color schemes for these and all of our birds by visiting the Meet the Birds section of our site.