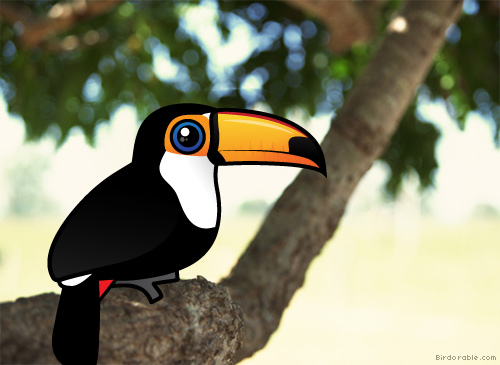 With its massive orange-yellow bill, the Toco Toucan is one of the most recognized birds in the world. Here are some interesting facts about the Toco Toucan and its amazing bill.
The Toco Toucan is the largest species of toucan in the world. There are about 40 species of toucan in total.
The bill of the Toco Toucan is nearly 8 inches long. Its tongue is not much shorter - that's a long tongue!
A toucan's bill is largely hollow, with a boney structure similar to that of a sponge. It may look like a formidable weapon, but its use as a defensive aid is more psychological (intimidation) than physical.
Up to 50% of a Toco Toucan's total body surface area can be found in its bill.
Toco Toucans use their massive bills to skin fruit and to grab hard-to-reach food items.
Toucan bills may help the birds regulate heat; the large surface area of the bill radiates heat away from the bird's body in their warm tropical environment.
A Toco Toucan can live up to 20 years in the wild.
Toco Toucans are cavity nesters. Can you imagine this amazing bird using its bill to hollow out a tree cavity for its nest?
If you can't get enough of Toco Toucans, be sure to check out Birdorable's selection of Toco Toucan t-shirts and gifts!