Have you ever seen a Bobolink? Here are some fun facts about these striking prairie birds!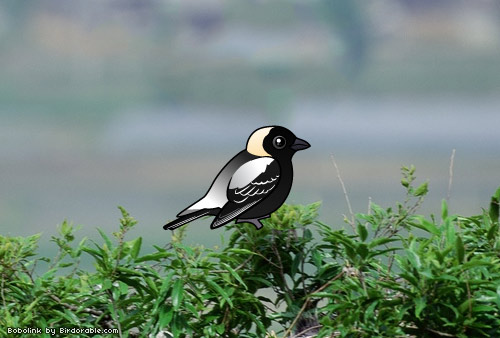 1. One nickname given to the Bobolink is "skunk blackbird." The breeding plumage of males is distinctive in North America; it is the only bird with a black front and white back.
2. Bobolinks have two other nicknames, both food-related, in their migration and wintering grounds. They are called "butterbirds" in Jamaica, where they are captured during migration and consumed by locals as food. In South America, they may be considered pests, where they feast on fields of grain. Here they are called "ricebirds."
3. The mechanical-sounding call of the Bobolink is sung by the males during spring, often in flight. Here is what it sounds like:
4. Bobolinks molt their feathers twice a year, which is unusual for a songbird. One molt occurs after breeding and before migration; the other molt occurs on the wintering grounds. Males change their appearance drastically. They go from the striking "skunkbird" black and white to more muted coloring and resemble the female bird, seen below.
Bobolink, female by Kelly Colgan Azar
5. A group of Bobolinks is called a chain.
6. Bobolinks are known to be extraordinary migrants. They breed across much of the northern half of the United States and into parts of Canada. During the fall, the birds travel down to south-central South America, a journey that may span over 12,000 miles round trip!
7. The Bobolink has been celebrated by several American poets. Emily Dickinson wrote The Way to know the Bobolink. And here is a verse from William Cullen Bryant's Robert of Lincoln:
Robert of Lincoln's Quaker wife, Pretty and quiet, with plain brown wings, Passing at home a quiet life, Broods in the grass while her husband sings: Bob-o'-l ink, bob-o'-link, Spink, spank, spink; Brood, kind creatures; you need not fear Thieves and robbers while I am here. Chee, chee, chee.
8. The Bobolink was added to Birdorable in 2011. Be sure to check out our great collection of Bobolink t-shirts & gifts!