The Birdorable Humboldt Penguin
This week we added the Humboldt Penguin to Birdorable. Humboldt Penguins live along the Pacific Coast of South America. They feed on small fish and krill which they hunt as they glide effortlessly through the water. The conservation status of the Humboldt Penguin is considered vulnerable; destruction of habitat is a major culprit.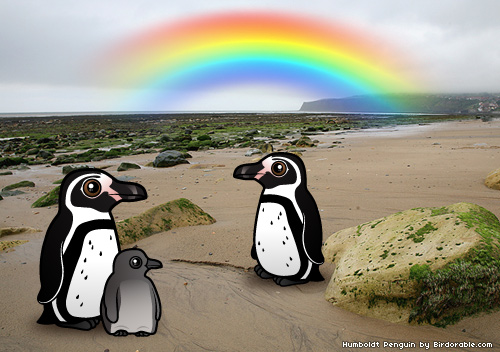 These beautiful medium-sized penguins are found in zoos around the world. A pair of male Humboldt Penguins at the Bremerhaven Zoo made headlines back in 2009 when they raised a baby penguin together. The same-sex couple "adopted" an egg that was abandoned by its parents and successfully raised the chick from incubation through feeding and finally independence. Prior to this incident, several of the zoo's Humboldt Penguins displayed same-sex preferences (which caused a stir back in 2005), but it was not until 2009 that a couple actually raised a baby together. Check out our Humboldt Penguin t-shirts and gifts and other Birdorable Penguins.