Celebrate Vultures at a Vulture Day Event!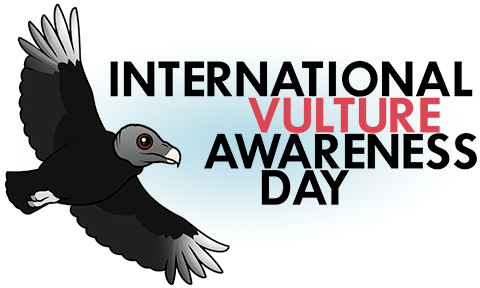 We're celebrating Vulture Week because this Saturday, September 5th, marks International Vulture Awareness Day (IVAD). This commemorative day has been celebrated since at least 2009 and aims to highlight the importance of vultures and vulture conservation through education.
Zoos, conservation organizations and other groups around the world will be celebrating vultures this weekend, marking International Vulture Awareness Day on September 5th. Here are just a few of the spots that will be having public events in honor of the day:

The Mountsberg Raptor Centre in Campbellville, Ontario will celebrate the day with special programs. The event will feature two resident Turkey Vultures named Casey and Buzz. Visitors may also find some Birdorable-related vulture fun and free activities during the Centre's event!

The Cheyenne Mountain Zoo in Colorado will celebrate IVAD with plenty of special events, including vulture feedings, a giant game of vulture-themed Jenga, vulture sock puppets, and much more!

The Friends of Blouberg Nature Reserve group in South Africa will have vulture lectures, a vulture-themed treasure hunt, and vulture breeding colony viewing.

The Avifauna Bird Park in the Netherlands will celebrate IVAD on both Saturday the 5th and Sunday the 6th. Watch vulture feedings and see a special bird show. There will also be activites for kids.

Lehigh Valley Zoo in Pennsylvania will honor vultures with events on IVAD, including vulture programs, keeper talks, and a resident Black Vulture.

The Edinburgh Zoo in the United Kingdom will celebrate IVAD with special vulture talks, a flight show featuring Turkey Vultures, and storytelling sessions.

The Birmingham Zoo in Alabama invites guests to celebrate International Vulture Awareness Day with them. Learn learn about vulture conservation and how important these birds are to our ecosystem. Events for the day include a scavenger hunt and special Keeper Chats.

The Raptors in Canada will celebrate IVAD on Saturday and Sunday. They will have flying demonstrations with vultures and specially themed vulture talks. Fundraising at the event will raise moneyfor the Peregrine Fund and a local rescue organization.

The AGFC Delta Rivers Nature Center in Arkansas will have a special vulture presentation, which will include a flying demonstration with their resident Black Vulture.

The Cascades Raptor Center in Oregon invites visitors to meet their resident Turkey Vultures on International Vulture Awareness Day. They will also have special activities for guests related to vultures.

These are just a few of the organizations that invite the public to visit and celebrate vultures. Find a complete list of participating groups here. Because the information here may be updated infrequently, be sure to contact any organzation prior to your visit to verify event timing and activities.
Join us all week long as we highlight the world's vulture species leading up to International Vulture Awareness Day on Saturday!