12 Days of Birdorable: Five Gold-ringed Tanagers
On the fifth day of Birdorable, my true love gave to me... 5 Gold-ringed Tanagers. Our 12 Days of Birdorable continues today with another brand new bird species!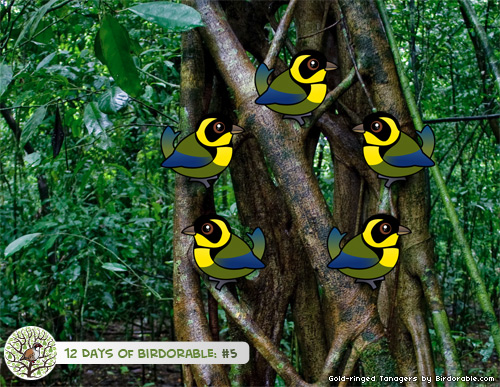 The line Five Gold Rings (also sung Five Golden Rings) in the song "The 12 Days of Christmas" is the first line that does not refer to a bird! Here at Birdorable we had to get creative, since we're all about cute birds, and the Birdorable Gold-ringed Tanager was hatched. Gold-ringed Tanagers are colorful little birds endemic to Colombia.
| | |
| --- | --- |
| | |
| Ladies Fitted T-Shirt | Glass Mug |
This is the fifth day of our 12 Days of Birdorable holiday event. Previously featured were: