A joker, a shade of green, a beautiful macaw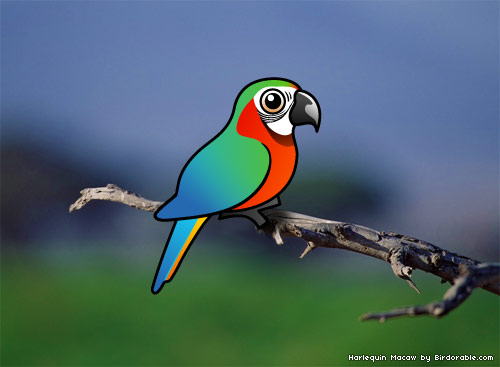 We recently added the Harlequin Macaw to Birdorable. The Harlequin Macaw is a relatively common hybrid macaw, a cross between a Green-winged (Red-and-green) Macaw and a Blue-and-yellow Macaw. Like other hybrid macaws, male Harlequins tend to take the coloring of the mother bird, while female Harlequins take the coloring of the father. The word Harlequin has several meanings; one refers to a comic servant character in Italian literature (similar to the court jester). Owners of these gregarious birds might find this meaning fits their avian friend. Harlequin is also a color, described as being between green and yellow. This fits well with the beautiful hybrid coloring of the Harlequin Macaw.
Check out our Harlequin Macaw t-shirts and gifts. Besides the usual array of apparel, don't forget that Birdorable also offers goodies like magnets, keychains and postage!