One of our newest Birdorable birds is the Great Blue Turaco. This species is the largest bird in the turaco family. Like most turacos, the Great Blue has a head crest. And what a crest it is! Thick and dark, the crest, along with the striking red-dipped yellow bill, makes this bird a total knockout!!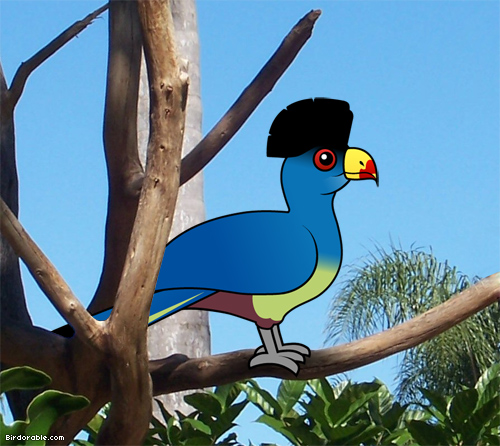 A non-threatened species across its range of central Africa, Great Blue Turacos feed on fruit, leaves and flowers. In some parts of Africa they are hunted for meat and for their beautiful feathers. These beautiful birds are rarely found in captivity. The San Diego Zoo has one in their collection, which happens to be the largest collection of bird species in the whole United States. The zoo in Antwerp also has a pair. Here is a short video from Antwerp.
Like all of our cute Birdorable birds, our Great Blue Turaco illustration is available on a wide variety of apparel options and novelty gift items. Pictured here are two t-shirt styles; visit the Great Blue Turaco product page in our shop for more gift ideas.