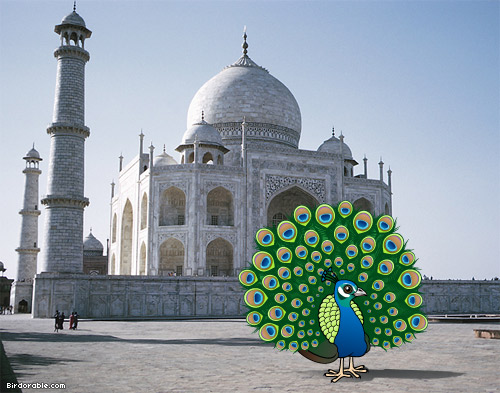 We are so pleased to introduce our newest Birdorable bird: the Indian Peafowl! The Peacock has been one of the most suggested birds here at Birdorable. This gorgeous species is the national bird of India, and we've added a Peafowl of India design to the shop, as well as products featuring the Peacock by itself - including cute custom shoes pictured below.

Peafowl appear countless times in Indian mythology and popular culture. During our travels in India, we often came across Peacock imagery, like at the City Palace of Jaipur:
We also saw several of them during our visits to natural parks, and once were even so lucky to find a male in full breeding splendor!
Peacocks appear not only in Indian art and nature, but in advertisements too:
Peacocks are indeed striking when in full breeding plumage. They sport about 150 long display feathers, which are not tail feathers but elongated upper tail coverts. These are shed each year during their annual molt and often collected afterward due to the prized decorative value of the feathers. Here are some more photos of this gorgeous species.