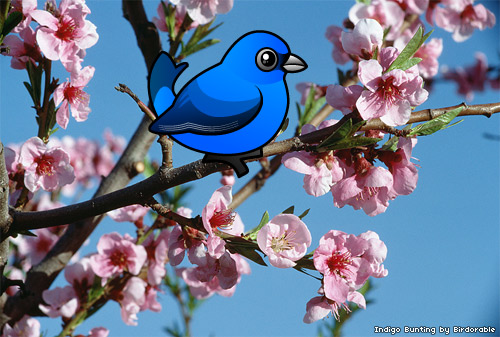 We recently added the Indigo Bunting to Birdorable. These birds are named for the striking bright blue plumage found in breeding males.
Like many passerine birds, for safety the Indigo Bunting often migrates overnight. They use the stars as a directional tool in their travels. In captivity, since they cannot migrate, Indigo Buntings may experience disorientation in April and May and in September and October if they cannot see the stars from their cages.
We can expect Indigo Buntings to return here to northern Illinois very soon. They will visit back yard feeders and the males especially are hard to miss.
You can also listen for their song, which some birders describe as sounding like "fire! fire! where? where? here! here! see it? see it?"
Indigo Buntings summer across much of the eastern part of the United States. Do you have Indigo Buntings where you live? Have they already returned? While you wait, be sure to check out our cute Birdorable Indigo Bunting t-shirts & gifts! :)