A new Birdorable for Vulture Awareness Day!
International Vulture Awareness Day (IVAD) may be tomorrow, but we here at Birdorable love vultures all year, and we can't wait to introduce our newest Birdorable bird: the Lammergeier, or Bearded Vulture.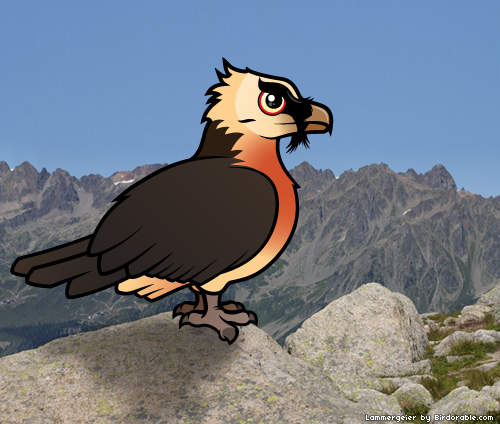 Lammergeiers like to eat dead things (just like people, if you think about it!), but they are a bit picky when it comes to their favorite treat: bone marrow! While they can easily swallow some bones, very large bones require a bit more work. Lammergeiers are so smart, they have a great trick to get at the bone marrow inside the bones of very large carcasses: they drop them on rocks! The bird will hold the bone and fly up high above a rocky area. At just the right moment, it will drop the bone so that it is broken or shattered by the rocks below. The Lammergeier then proceeds to chow down on the bone fragments along with the nutritious marrow inside. To help you celebrate IVAD, please have a look at our free fun vulture downloads, including an all-new Lammergeier coloring page. And check out our cute Lammergeier gifts.