Fun facts about the Northern Parula
It's May! That means we are already into Warbler Neck Awareness Month. Have you been out birding this month? If you've been out looking for warblers, maybe you've seen this cutie, the Northern Parula.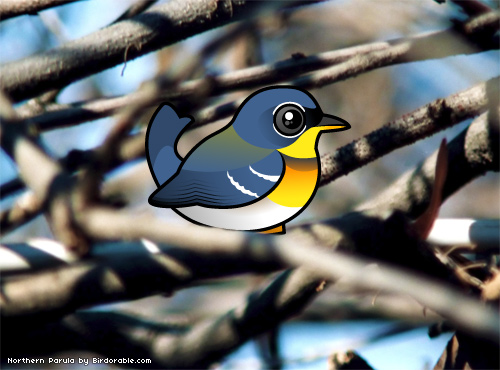 1. The Northern Parula is a species of warbler (see our other cute warblers).
2. Northern Parulas nest in two distinctive, separate zones in eastern North America.
3. The original name for this small wood-warbler was Finch Creeper.
4. Northern Parulas have been known to hybridize with Yellow-throated Warblers. The offspring are known as Sutton's Warblers.
5. The oldest known wild Northern Parula lived to be at least seven years of age.
6. The Northern Parula is one of our cute Birdorable birds! The Northern Parula was added to Birdorable on November 17, 2010.