Fun Facts about Monk Parakeets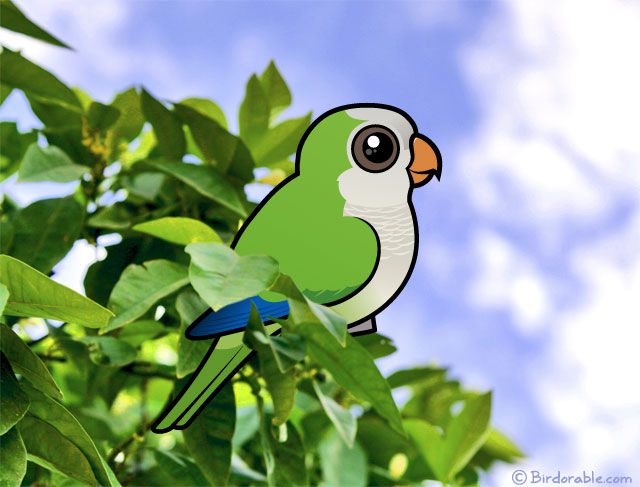 Monk Parakeets, also known as Quaker Parrots in aviculture, are medium-sized parakeets with a mostly green plumage, gray at the forehead and throat, and a pale pink bill. Here are some facts about these cute birds:
The native range of Monk Parakeets is around subtropical parts of Argentina and surrounding countries in South America.
There are many self-sustaining feral populations of Monk Parakeets outside of South America, mainly in Europe and North America.
The Monk Parakeet was brought to the United States in the late 1960s as a pet. The first feral Monk Parakeet to be recorded in the U.S. was in New York in 1967. Many birds escaped or were intentionally released, and populations were allowed to proliferate. By the early 1970s, Monk Parakeets were established in seven states, and by 1995 they had spread to eight more. There are now thought to be approximately 100,000 in Florida alone.
The Monk Parakeet is the only parrot that builds a stick nest rather than using a hole in a tree. These birds typically build their nest in a tree or on a man-made structure.
These huge nests attract many other tenants, including birds of prey such as the Spot-winged Falconet or ducks such as the Yellow-billed Teal.
Monk Parakeets often breed colonially and build a single large nest with multiple entrances for each pair. In the wild these colonies can become quite large, with nests that can reach the size of a small car.
There are four recognized subspecies:

Myiopsitta monachus monachus -- Lives from southeastern Argentina and Uruguay and is the largest subspecies;
Myiopsitta monachus calita -- Native to the Andean foothills from southeastern Bolivia to Paraguay and northwestern Argentina. Has wings more prominently blue and darker gray head than other subspecies;
Myiopsitta monachus cotorra -- Nests in cliffs in southwestern Brazil and has less yellow below and is brighter overall;
Myiopsitta (monachus) luchsi (aka Cliff Parakeet) -- Has no scalloping on breast, underparts are brighter yellow and lives in the Andean valleys of central Bolivia.

The Cliff Parakeet subspecies may eventually be recognized as its own species again, as it has been on-and-off since it was first described in 1868.
The lifespan of a Monk Parakeet is 15 to 20 years in the wild and 25 to 30 years in captivity.
Other names for this bird are: Quaker Parrot, Monk Parrot or Quaker Parakeet.
A group of parakeets is collectively called a "chatter" or a "flock" of parakeets.
Quaker Parrots are popular pet birds for their comical personalities and energetic nature, but they are also notoriously loud and noisy birds, so take caution before rushing out to get one. They can live to be 30 years old, so caring for one is a long commitment. The birds are also illegal to keep in some U.S. states, especially in the south due to the established feral populations.
The Monk Parakeet was added to Birdorable in August 2007 and we have hundreds of original customizable gifts with this cute bird. Check out our cute Monk Parakeet gifts or our other Birdorable parrots and parakeets.