2015 Bonanza Bird #14: Rhinoceros Hornbill
Our Birdorable Bonanza: 2015 Advent Edition continues today with a bird named for its remarkable bill: the Rhinoceros Hornbill!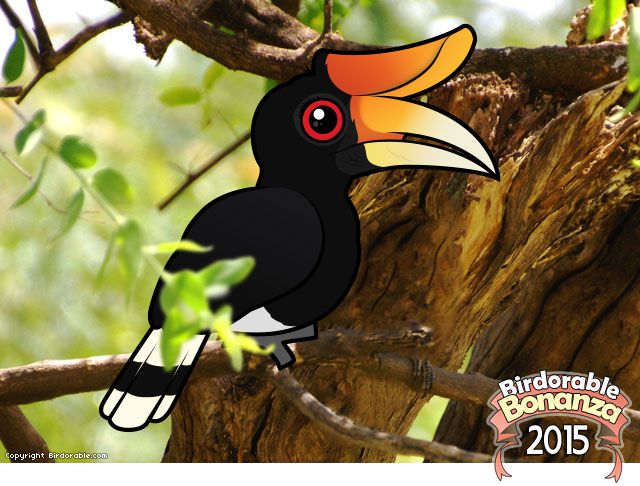 The Rhinoceros Hornbill is a large species of hornbill that lives in parts of southeast Asia, including Malaysia, where it is the national bird. They live in forest habitat and are non-migratory, though birds may move outside of breeding season if availability of food dictates.
Like all of the birds in their family, Rhinoceros Hornbills have very large bills with a large casque, or protrusion to the upper beak. The bill is horn-colored with red or orange coloration which varies in intensity from bird to bird. The sexes are similar in appearance, though male birds have larger beaks and casques and females lake the black outline between the two. They also have different colored eyes: males have red or orange eyes, while females have light, whitish eyes.
Rhinoceros Hornbills are considered to be Near Threatened by the IUCN. They face loss of habitat due to logging and agricultural land use, as well as direct threats from hunting and collecting.
The Rhinoceros Hornbill is our 630th Birdorable bird.
Tomorrow's bird is a parrot with a superb name. Can you guess what it will be?