Bonanza Bird #7: The Gouldian Finch, a colorful conundrum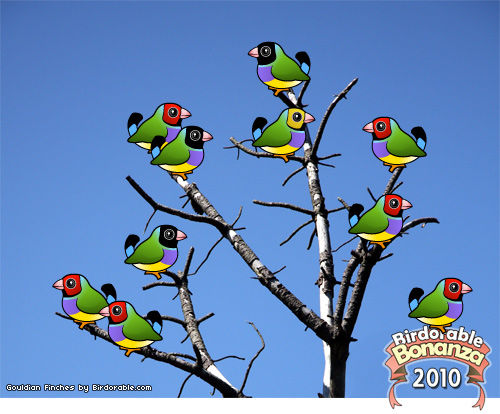 For 18 days we're adding a new Birdorable bird every day as part of our Birdorable Bonanza 2010. Today's bird is the beautiful Gouldian Finch! The Gouldian Finch is one of the most wildly colored birds on Earth. Native to Australia, this little finch's plumage includes feathers of red, yellow, green and black. The head is either red, black or yellow. Formerly considered three different kinds of finches, we now know that these are actually color variants of the same species that exist in the wild. Yellow is the rarest. Because of their amazing plumage, Gouldian Finches are very popular in aviculture. Since 1959 it has been illegal to export the birds from their native Australia. Still, the species is considered threatened today, mainly due to habitat loss. Other factors contribute to the decline of the species, including easy predation - due to their bright colors. If you'd like to learn about the effort to conserve the Gouldian Finch in Australia, visit Save the Gouldian Fund.
Tomorrow's bird is a brood parasite disliked by many bird lovers in North America. Can you guess what it is?