The myth of the Crocodile Bird
The Egyptian Plover is a beautiful species of wader that lives in parts of sub-Saharan Africa. Despite the common name, their present range does not extend to any part of Egypt. The bird is sometimes known by another name: Crocodile Bird.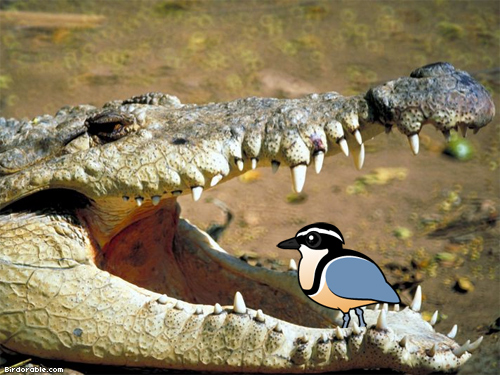 During a visit to Egypt in 459 BC, the Greek historian Herodotus noted having seen a small bird picking out food from the mouth of a crocodile. The behavior was presumed to be symbiotic, or beneficial to both animals. The crocodile got a nice teeth cleaning, and the bird got an easy meal. The bird named in Herodotus' account was an Egyptian Plover. Our first clue that this may not be true is the fact that Herodotus, while often recognized as the world's first historian, had a nickname of his own: "The Father of Lies." The Crocodile Bird myth was later revived by explorers in the 19th and 20th centuries. Two separate personal eyewitness accounts, one by a German zoologist, the other by a British birdwatcher, are widely disputed. In fact, there is no substantial record of any type of symbiotic cleaning relationship between any crocodilian species and any bird, anywhere. Despite its questionable background, the nickname Crocodile Bird does make the Egyptian Plover sound kind of cool, don't you think?
Birdorable Crocodile Bird Gifts