Birdorable Holiday Gift Ideas 2012
Our American friends are preparing to celebrate Thanksgiving tomorrow, which means that the holidays are just around the corner! We'd like to highlight just a few new products, popular products, and new designs that would make perfect gifts for the bird-lover on your holiday gift list.
Gifts For Owl Lovers
There's no doubt that owls are a hot design trend this year. Cute cartoon owls are especially popular. There are a lot of pastel or brightly colored owls on the market, but here at Birdorable we pride ourselves on designing cartoon birds that are totally cute and naturally accurate - though we aren't against adding a little whimsy to our designs. Case-in-point: our most popular seller this year has been Owls are Cool, which features a Birdorable Barred Owl wearing a cool pair of shades. Have a look at all of our cute owl gifts.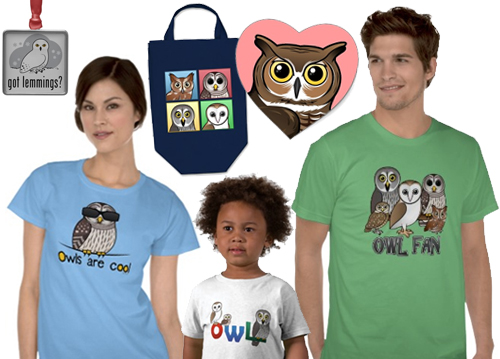 For Your Holiday Gift Exchange: Shop by Price
We have improved the shop-by-price function on Birdorable.com. In the upper left corner there is a handy box which lists gift recipients and gift price ranges. If you click on one of the price range links, you can see a list of all products within that range. The new functionality allows for searching for specific products and/or birds within a price range. For example, you can search for Barn Owl t-shirts priced between $25 and $35, Christmas ornaments priced $15 to $20, or Bald Eagle gifts from $7 to $13.
Fun Ideas for Backyard Birders
If you have someone on your list who loves feeding birds, let them show off their hobby with a cute t-shirt! We've got designs for sharing Backyard Bird love plus a special design for those across the pond who feed their garden birds. If your recipient has a special favorite bird, browse through our species pages to find the perfect gift!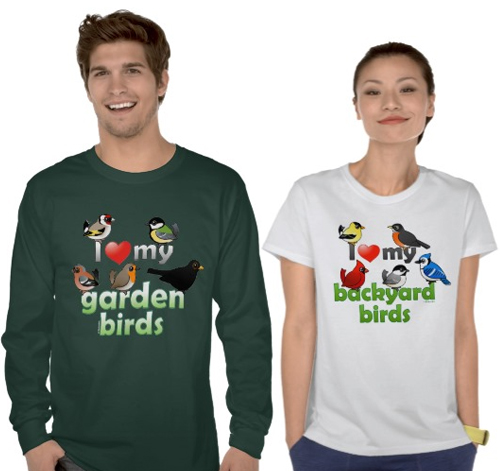 Think Green with Sustainable Gifts
Promote conservation at home with reuseable water bottles and cloth grocery and tote bags.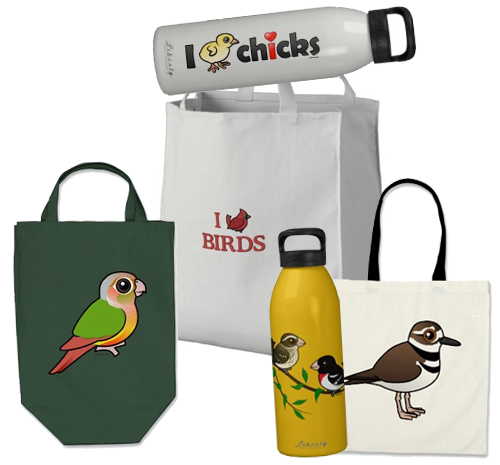 NEW! Smartphone Cases for Everyone
We have cases for iPhone 5 cases; iPhone 4 cases; iPhone 3 cases; Droid RAZR phone cases; HTC Vivid cases; Samsung Galaxy S3 cases; Samsung Galaxy S2 cases; and Blackberry cases. Some of these cases are brand new in our shop and have not been added with all of our designs so far. If there is a case you want with a certain design, let us know and we'll add it as soon as we can!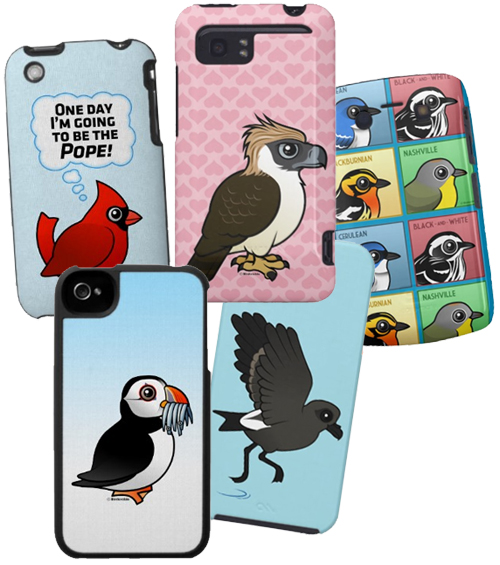 Pictured: One Day I'm Going To Be The Pope! iPhone 3 case; Philippine Eagle HTC Vivid case; Four Color Warblers Blackberry case; Puffin Prowess iPhone 4 case; Leach's Storm Petrel iPhone 5 case We've got accessories for other electronic devices, too. Check out our growing collection of iPad cases & folios; iPod Touch cases; iPad mini cases; and Kindle Keyboard cases We've also got new apparel options, plus brand new birds will be added each week right up until the end of the year. We're really gearing up for Christmas! As you prepare for the coming season, we wish you and all of our Birdorable fans tranquility, peace, and love during this season, and all throughout the year.