American Redstarts are migratory warblers found across parts of North America. They winter in the Caribbean and parts of Central and South America. These little cuties are named for their tails. Wait, what?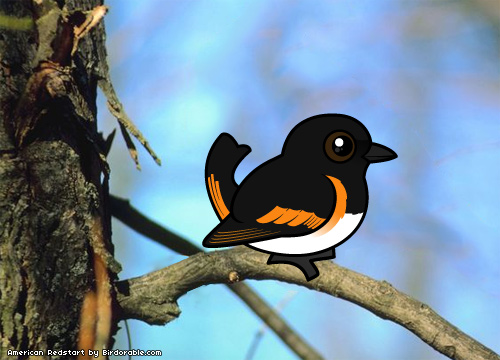 In Old English, the word for tail was steort, or start. Though the American Redstart's tail feathers are more orange than red, we can at least understand from where the 'start' part of the name comes. There is an entire family of birds found in the Old World known as redstarts. These are flycatchers, not warblers. American Redstarts are warblers, but they feed mainly by flycatching. Confused yet? If you were an insect, you might be. American Redstarts flare their tails to flash, startle and confuse potential prey items (insects). Both males and females do this, as you can see in the below photos.

American Redstart [male] by Wildreturn

American Redstart (female) by Jeremy Meyer
The American Redstart was added to Birdorable on October 18, 2012. If you can't get enough of these flashy little warblers, be sure to check out our great collection of American Redstart t-shirts and gifts!