Bonanza Bird #21: Red-legged Seriema
We're almost there! Today's new bird in our Birdorable Bonanza 2012 is also our 399th species: the Red-legged Seriema!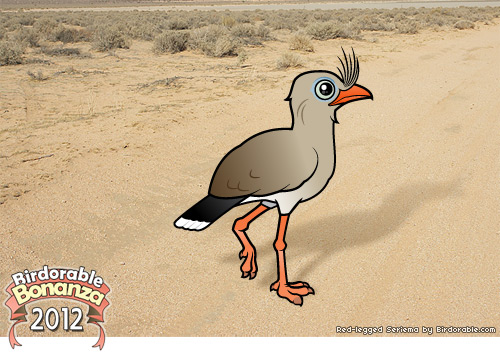 Red-legged Seriemas live in open grassland habitat in central parts of South America. They feed on small reptiles like lizards and snakes, as well as large insects and small rodents.

Seriema / Red-legged Seriema ( Cariama cristata ) by Wagner Machado Carlos Lemes
They have very long legs; seriemas are skilled and fast runners. They are able to fly, but they are awkward in the air and prefer to run away from danger. Red-legged Seriemas have a wide range, and their population is considered stable and of least concern on the IUCN Red List of Threatened Species.
With tomorrow's bird we will conclude our Bonanza for this year! We will leave you guessing, with just a silhouette for a clue to #400. :)