Malleefowl: the Thermometer Bird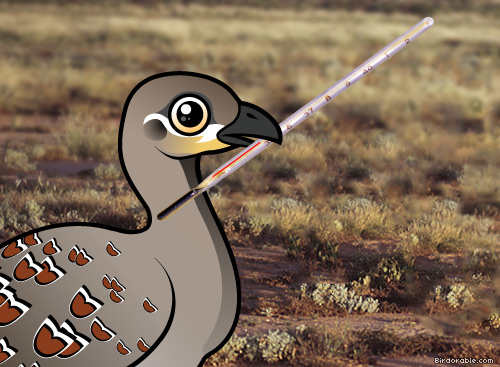 Malleefowl are large ground-dwelling birds that live in Australia. They have a remarkable reproductive cycle that includes up to 11 months per year spent building, tending and maintaining a large nest mound used for incubation. Malleefowl mounds are made up primarily of compost, piled many layers deep, and a top layer of sand, used for insulation. The eggs lay on top of the compost and are protected by the sand layer. The mounds may be used for several breeding seasons and may grow to over 70 feet in circumference and over three feet deep.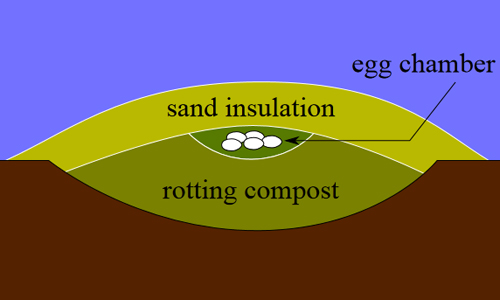 Malleefowl mound graphic by Peter Halasz
After the eggs are laid, the male tends to the nest and makes adjustments to the amount of soil within the compost layer to maintain a constant temperature of 33°C (91.4°F). He checks the temperature by probing his beak into the nest chamber! This amazing feat is why the bird is known as the "thermometer bird" in the Dutch and German languages. Here is a short video showing a temperature check:

Malleefowl checking the nest mound temperature by grazza2106
Incubation depends on the temperature inside the mount remaining steady. Fluctuations caused by rainfall and other factors lead to incubation time lasting anywhere from 50 to nearly 100 days. When the chicks are ready to hatch, they use their strong feet to break the eggshell. Digging through the sand layer is a struggle that may take 15 hours! Once they reach the surface, they take a deep breath and begin their life, totally independent of their parents. Malleefowl chicks can run just an hour after emerging from the nest mound, and are able to fly after just one day! Here is a short video showing a Malleefowl chick who has just emerged from the nest mound:

wild malleefowl chick emerging from mound by MrRCEnterprise
If you can't get enough of these amazing birds, you're in luck! The Malleefowl is one of our Birdorable birds and you can find our cute Malleefowl on a variety of apparel and gift items.