Bonanza Bird #22: Eurasian Eagle-Owl
Our Birdorable Bonanza 2012 concludes today as we reveal our 400th species: the Eurasian Eagle-Owl!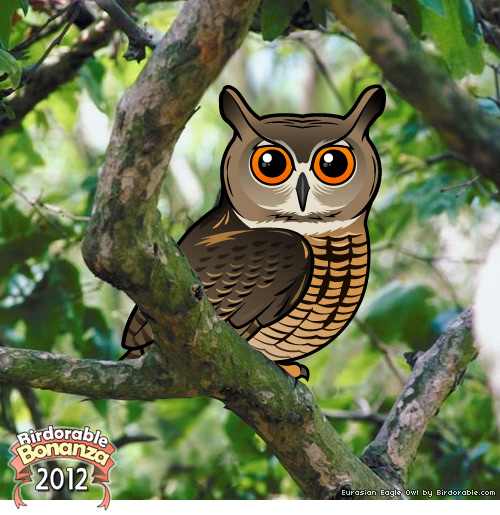 Eurasian Eagle-Owls are very large and powerful birds. They have beautiful cryptic plumage, prominent ear tufts, and striking bright orange eyes.

Eurasian Eagle Owl by cookipediachef
Did you know...?
The Eurasian Eagle-Owl is sometimes considered to be the world's largest owl species. Their wingspan may be up to 6 and half feet or two meters!
The scientific name for the Eurasian Eagle-Owl is Bubo bubo. Bubo is Latin for owl.
This species has a very wide range, with breeding birds recorded in much of south and eastern Europe, and across much of temperate Asia.
Eurasian Eagle-Owls eat a variety of prey, including mammals like voles and hares.
Nesting usually occurs on rocky surfaces such as cave entrances, cliff ledges, or other crevices. They may also take over abandoned nests of other large raptor species.
Like other owl species, the Eurasian Eagle-Owl achieves silent flight through a fringe-like edging across their primary wing feathers.
We've added a coloring page of this beautiful owl. Check out the Eurasian Eagle-Owl and other free PDF downloads here: Coloring Pages.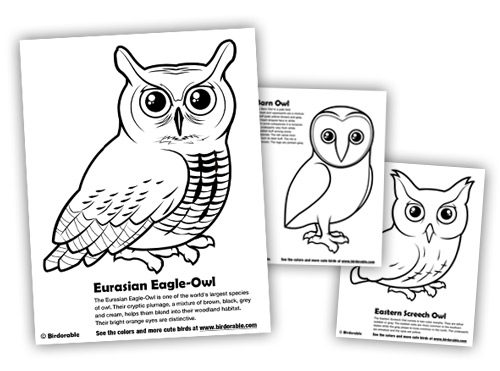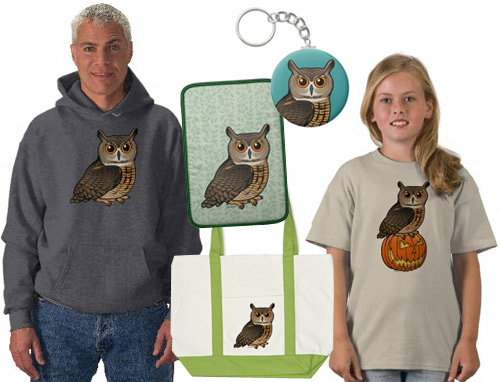 We hope you've enjoyed our Birdorable Bonanza 2012! We had a lot of fun introducing 22 new birds in 22 days and look forward to the next time! Here is a list of all the birds released during this Bonanza, in case you missed any of them.