Peregrine Falconry and Recovery
Falconry is the sport of hunting with a trained bird of prey. Peregrine Falcons have been popular birds among falconers for thousands of years. When the species became endangered due to pesticide use in the 1950s, 60s and 70s, the expertise of falconers was instrumental in the eventual recovery of the species. In 1970, the North American population was believed to be just 10 or 20 percent of its historical average. The species was added to the Endangered Species list in 1975; at that time there were just 324 known nesting pairs in the United States. Harmful pesticides like DDT were banned, but the population needed additional help in order to increase their numbers.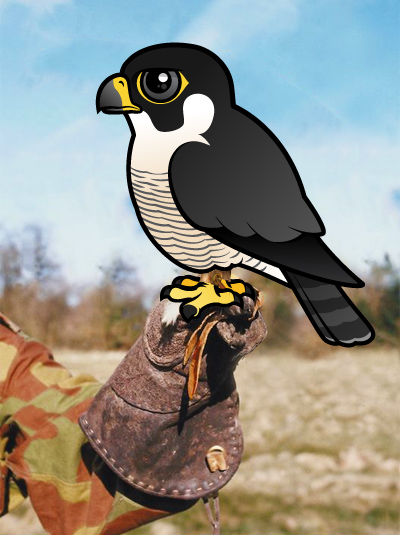 Because Peregrine Falcons breed successfully in captivity, falconers continued to raise and hunt with captive-reared birds during the time it became endangered in the wild. Later, captive breeding and release programs in the United States, Germany, and elsewhere were extremely successful. These were done with cooperation between government agencies, non-government conservation groups, and experienced falconers. Today, the Peregrine Falcon is no longer on the Endangered Species list and populations have rebounded across much of their near-worldwide range. Peregrines have adapted to nest in urban and suburban settings. In the United States, many urban Peregrine Falcon nests are monitored by volunteers or via remote cameras. Birdorable fans know that our favorite Peregrine Falcon camera is the Rfalconcam in Rochester, New York.