Extreme Cooperative Nesting
African Pygmy Falcons live in dry bush in parts of eastern and southern Africa. These little cuties measure just over seven inches long, making them the smallest bird of prey found in all of Africa.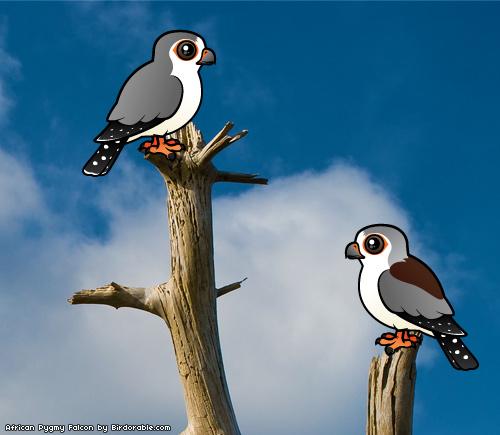 African Pygmy Falcons, also known simply as Pygmy Falcons, have a unique way of nesting. They use empty compartments in large Sociable Weaver nest structures, or abandoned nests made by other weaver species. Pygmy Falcons are also known to nest in polyandrous groups, with more adult birds than just the breeding pair caring for nestlings and chicks. The African Pygmy Falcon was added to Birdorable on April 25, 2012. If you can't get enough of these adorable little raptors, be sure to check out our range of unique Pygmy Falcon t-shirts and gifts!