Cute bird holiday gift labels
Add Birdorable birds to your Christmas gift wrapping this year for some cute holiday cheer! Here are two fun ideas that combine our cartoon cuties with your own creativity!
Free Birdorable labels to print out and color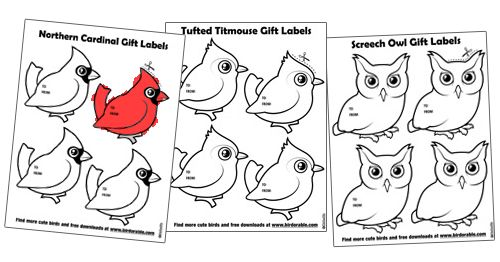 Print out our free downloadable PDF holiday labels. Use watercolor paint, crayons, markers, or colored pencils to color the birds. Cut out the finished birds and use tape or glue to attach them to your wrapped holiday gifts! Choose from Northern Cardinal, Tufted Titmouse, or screech owl.
Use Zazzle's tools to design your own Birdorable gift labels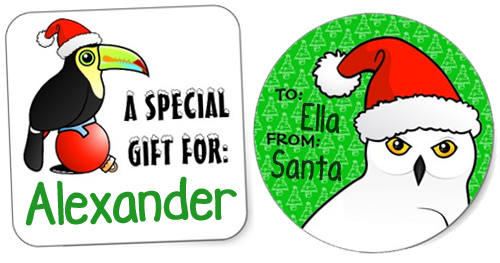 Here are step-by-step instructions you can use to design personalized Birdorable gift label stickers for purchase. In this example, we'll design gift labels featuring one of our favorite birds, the Red-breasted Nuthatch. 1. Pick your bird! Visit Birdorable.com, click on Meet the Birds, and use the search box to find the Red-breasted Nuthatch species page. 2. Choose your design! Look at the Birdorable designs featuring the Red-breasted Nuthatch. For this example, we'll use Nuthatch Santa. 3. Start with a sticker! On the page featuring Nuthatch Santa apparel and gifts, find a sticker. Any sticker will do to start. Click on the square sticker to bring up the product page on Zazzle.com. 4. Customize it! Click on the orange Customize it! button to make changes to the sticker. Customization tools allow you to change things like the background color and design size and placement. The below video shows how customization works for some of these attributes.
You can make these kind of creative changes to all of our customizable stickers. So get creative and have fun! Happy holidays!