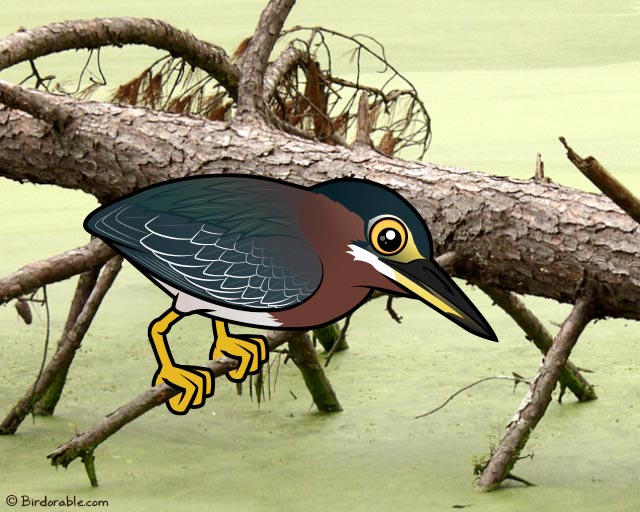 Here are some interesting facts about the Green Heron, one of our newest Birdorable birds!

The Green Heron has had some interesting colloquial names, including Fly-up-the-creek, Poke, Chalkline, Indian Hen, and Chucklehead.

Some Green Herons migrate, and some don't. Green Herons are year-round residents in most of the southern coastal parts of their range. Other birds migrate from their nesting grounds in the north a short distance south for the winter. They are considered to be mid-distance migrants.

Green Herons are one of the few bird species known to use tools. They will bait for fish using things like bread, leaves, or feathers to try to lure in fish. This video shows a Green Heron using an insect as bait:

There are several collective nouns used for herons. You might see a hedge of herons, a sedge of herons, or a siege of herons.

The Green Heron was chosen to be the official Bird of the Year 2015 by the American Birding Association.

The oldest wild Green Heron on record lived to the age of 7 years and 11 months. This was discovered via data collected from bird banding.

The Green Heron used to be considered the same species as the Striated Heron and the Galapagos or Lava Heron. The species was then known as the Green-backed Heron. Some taxonomies still treat them as subspecies.

Green Herons may nest away from other herons, alone, or in a small group, or in a larger colony. Many heron species are colonial nesters but the Green Heron or may not nest this way, depending on availablity and defendability of feeding territory.

Green Herons have a shaggy crest that can be raised at will by the bird.
Green Heron by Andy Morffew [CC BY-ND 2.0]
The Green Heron was added to Birdorable on June 22, 2015, and joined us as our 610th species.