Orange these Baltimore Orioles cute?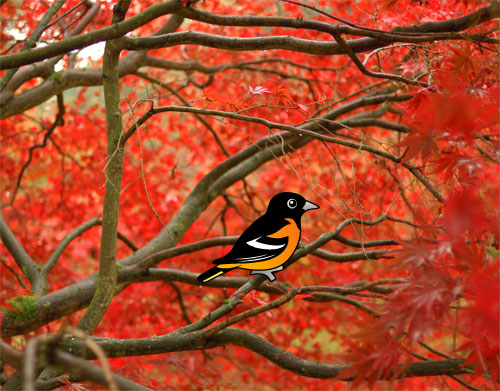 Photo of beautiful tree by boliston
The Baltimore Oriole is a bright orange and black bird that breeds across North America and migrates south in flocks to Mexico, Central America and northern South America. It is the state bird of Maryland and the Baltimore Orioles Major League Baseball team was named after this bird. Backyard birders can attract these birds with special oriole feeders, which contain the same food as hummingbird feeders, but are designed specifically for orioles: they are orange instead of red and have larger perches. Baltimore Orioles are also fond of halved oranges and grape jelly.
This bird received its name from the fact that the male's colors resemble those on the coat-of-arms of Lord Baltimore. When George Calvert, an English politician and coloniser of the New World, visited Chesapeake Bay in 1628, he saw the bird for the first time and was so pleased by its colors that he adopted them as his own. Later Linnaeus named the species the Baltimore Oriole because its colors were those of the Calverts.
I hope we'll be able to get these beautiful birds in our backyard this year. We'll certainly put out some oranges for them.
(thanks to Lori Larson for these nice oriole photos that we found on Flickr)