Introducing the Belted Kingfisher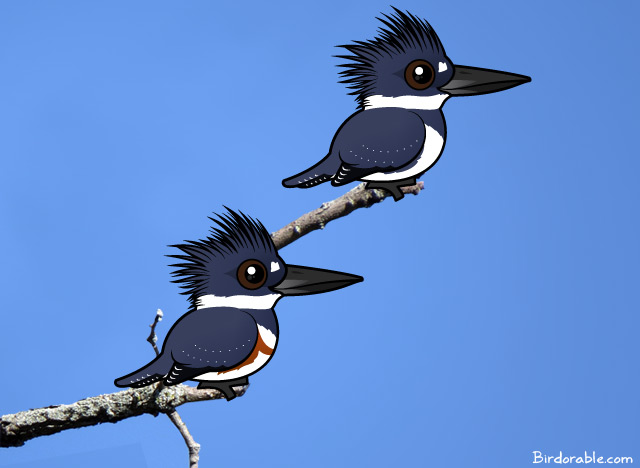 The Belted Kingfisher is one of three new kingfishers that we've added to Birdorable. This cutie can be found across North America, Central America and South America as far south as Argentina. I love Kingfishers, and we saw many Belted Kingfishers on our vacation in Florida. We were staying in Key Largo and every time we drove Route 1 back to the mainland we saw dozens of these guys sitting on the telephone wires looking down at the water. When they spot a fish that they like, they'll dive into the water head first to grab it. Did you know that many Kingfishers, including this one, nests underground? A pair will dig a tunnel as long as 8 feet in river banks. The tunnel slopes upward to keep water from entering the nest. Human activity has actually expanded their breeding range; road building and the digging of gravel pits has created new banks where kingfishers can nest.
Males and females both have shaggy crests and are colored blue and white. Females have rufous across the upper belly. This is our totally cute Birdorable version of the Belted Kingfisher!
Cute Belted Kingfisher Gifts